GeoSoftware Partners with University of Sharjah for HampsonRussell and PowerLog Software Licenses
We are pleased to announce that University of Sharjah in UAE has joined GeoSoftware University social responsibility program, through benefiting from a set of Seismic Reservoir Characterization software, HampsonRussell and PowerLog. Sharjah University is the second university in the UAE after Khalifa University to benefit from this program.
This is another milestone for GeoSoftware to enhance our presence in the UAE as an integral part of our commitment to the UAE Oil and Gas industry. We are pleased to support a number of leading universities in the region to help train the next generation of geoscientists for their future careers.
"University of Sharjah is ranked the 1st University in UAE. Congratulations for such success and GeoSoftware is willing to contribute to maintain such success through providing our high-tech software to instructors and students. We strongly believe that this will greatly improve the university's scientific research level, enhance students' knowledge on petroleum geoscience, and provide an effective platform for them to begin their careers after graduation," said Sarra Hallou, Marketing Specialist, Middle East & North Africa, GeoSoftware.
GeoSoftware presented seismic interpretation and reservoir characterization software to support the Petroleum Geosciences & Remote Sensing program at the College of Sciences, University of Sharjah (UoS). This Software for Greater Subsurface Understanding optimizes oil and gas exploration and production with leading-edge geophysical, petrophysical and modeling technology and services.
"GeoSoftware licenses will play a significant role in training PGRS students to gain valuable software skills using HampsonRussell and PowerLog that will help them to pursue careers in Petroleum Exploration and Development companies. In addition, it helps to conduct advanced research and development in petroleum geosciences at the University of Sharjah," said Dr. Mohamed I. Abdel-Fattah, Associate Professor of Petroleum Geosciences, University of Sharjah. "I express my sincere appreciation for this fruitful collaboration between GeoSoftware and University of Sharjah. This marks the beginning of our collaboration with GeoSoftware to develop students' skills in advanced seismic interpretation and reservoir characterization, especially Machine Learning and AI for geosciences."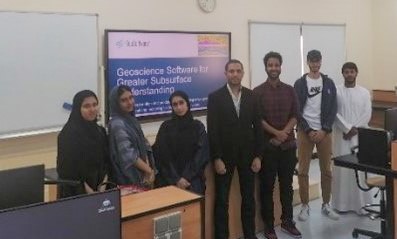 University University of Sharjah
Dr. Mohamed I. Abdel-Fattah, Associate Professor of Petroleum Geosciences
Professor Mounir Gaidi, Chairman, Department of Applied Physics & Astronomy
About GeoSoftware
GeoSoftware is a global trusted partner providing geoscience software and consulting services for enhanced subsurface knowledge. GeoSoftware reservoir characterization technology and services link geophysics, geology and petrophysics for optimum workflows that drive greater reservoir understanding. Global clients rely on the company's geoscience expertise to build the most accurate and detailed reservoir models and elevate subsurface knowledge. Headquartered in Houston, Texas, USA, GeoSoftware has over 160 employees located in 17 countries from which they serve over 450 clients across the globe.
Contact Information