GeoSoftware Launches New Reservoir Characterization Technology for Increased E&P Efficiency
GeoSoftware™ is pleased to announce enhancement releases demonstrating our continued commitment to providing the latest technology in machine learning and reservoir characterization workflows of our industry-leading software brands, HampsonRussell, Jason and PowerLog.
HampsonRussell 12.0 now includes revolutionary new technology, GeoAI, which encompasses a novel methodology for seismic reservoir characterization with limited well control. It uses Rock Physics theory and statistical simulations to model various geological situations. A simplified machine learning approach allows users to train Convolutional Neural Networks on the simulated synthetic data and transfer learnings to real seismic to better estimate multiple rock property volumes. A new faster and more accurate spatial interpolation method speeds up Strata model building and horizon/slice related operations. New tools for the interactive analysis of Amplitude Spectrum and Radon Transform allow fast data evaluation. Geoview adds automated multi-well correlation providing fast well-tie quality control analysis for many wells, saving time in projects with many wells.
Jason Workbench 11.1 now offers intuitive angle-dependent, multi-well wavelet estimation. Estimate wavelets for all partial stacks simultaneously with automatic well alignment and broadband capability. Geostatistics users will appreciate the new interactive vertical trend editor in RockMod along with improved performance in complex modeling. Enhancements in RockTrace inversion include improved QCs and automatic and interactive parameter design. Facies-driven low frequency modeling for inversions is now quickly and conveniently accomplished with a new dedicated application.
PowerLog 11.1 delivers new easier to use automation and analytics that significantly reduces log editing time to leave more time for interpretation. A fully integrated automated log editing package within PowerLog includes capabilities such as automated depth matching, outlier detection, log patching and similarity analysis for simple and quicker log data conditioning.
"GeoSoftware's new functionalities highlight our continued commitment to deliver high-end technology to E&P companies. These evolving enhancements significantly help our customers solve their challenges in all reservoir play types."
Francis Ma, Vice President Research and Development, GeoSoftware
Visit GeoSoftware at the 83rd EAGE Annual Conference & Exhibition at stand #635 to see demonstrations of these new features firsthand.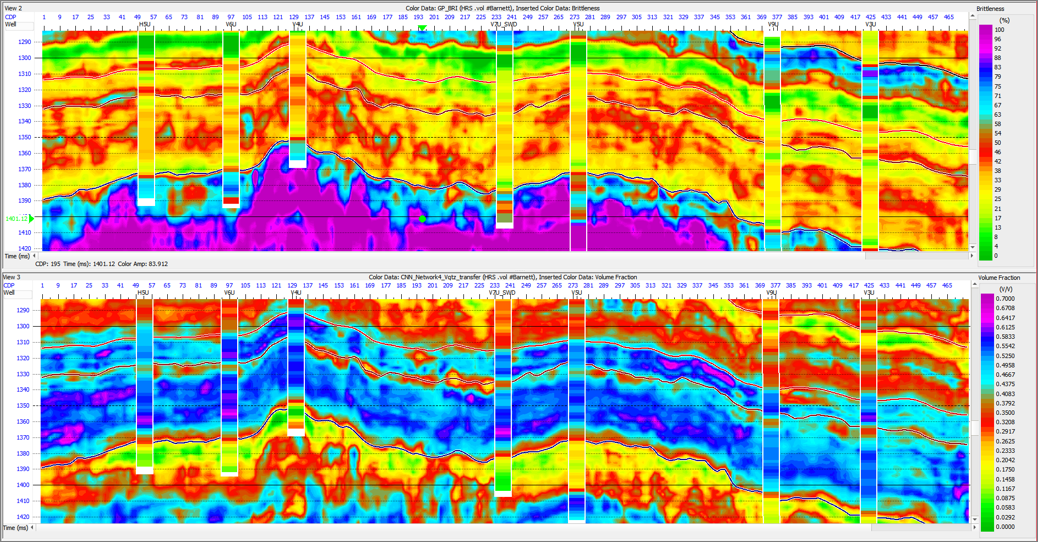 Brittleness (top) compared to GeoAI VQuartz (bottom), calculated from GeoAI estimates of elastic parameters.
About GeoSoftware
GeoSoftware reservoir characterization technology and services link geophysics, geology and petrophysics for optimum workflows that drive greater reservoir understanding. Enhanced cloud and machine learning capabilities, optimized computing performance and a superior user experience are hallmarks of its industry-trusted brands. The GeoSoftware portfolio includes Jason, HampsonRussell, PowerLog®, InsightEarth® and VelPro. Global clients rely on the company's geoscience expertise to build the most accurate and detailed reservoir models and elevate subsurface knowledge. GeoSoftware is committed to continued innovation to address complex challenges in all types of reservoirs and reduce risk, cost, and cycle-time throughout the field lifecycle. Comprehensive geoscience knowledge, solutions, and consulting services from GeoSoftware bring valuable insight to natural resource exploration and development, enhancing clients' E&P success. Headquartered in Houston, Texas USA, GeoSoftware has experts located in 17 countries from which they serve clients across the globe.
Contact Information
GeoSoftware Media Relations
Monica Iglesias
+1 713 859 1282