GeoSoftware Provides HampsonRussell and PowerLog Licenses to Boumerdes University
GeoSoftware is committed to bridging the gap between academia and the energy industry to build strategic business partnerships with key universities in the Middle East and North Africa region as part of our Corporate Social Responsibility. On this occasion, GeoSoftware is delighted to sign an agreement with Boumerdes University in Boumerdès, Algeria, to provide HampsonRussell and PowerLog licenses.
GeoSoftware recognizes the importance of Boumerdes University in the region and believes that this partnership will provide both undergraduates and postgraduates with an enriched educational experience. Additionally, it will position the students as power users in a highly competitive market. We look forward to building on this agreement as a pillar for future enhanced presence in Algeria and North Africa.
"We are delighted to be working with the professors and students of Boumerdes University to provide innovative reservoir characterization technology to their curriculum," said Mohamed Badawy, GeoSoftware, Business Manager. "GeoSoftware understands the importance of training the next generation of geoscientists."
"The University Mhamed Bougara of Boumerdes - Faculty of Hydrocarbons and Chemistry are thrilled to announce the new partnership with GeoSoftware. As part of this partnership, Boumerdes University will be receiving HampsonRussell and PowerLog licenses for our high-end computer lab, providing our undergraduate and postgraduate students with access to cutting-edge technologies and valuable practical experience in seismic and reservoir analysis," said Madame Saadia, YSBAA, Vice Doyenne Chargée de la Poste Graduation, de la recherche scientifique et la RELEX, Faculté des Hydrocarbures et de la Chimie.
"This partnership is a significant step towards enhancing the quality of education at Boumerdes University and providing our students with a competitive edge in the job market. We are proud to be building a strategic partnership with GeoSoftware, as we believe that this collaboration will strengthen our reputation as a distinguished educational institution and enhance our position as a leading provider of education in seismic and reservoir analysis in Algeria and the Greater Maghreb region.
We are excited about the opportunities that this partnership will provide to our students and academics, and we look forward to working closely with GeoSoftware to develop the next generation of experts in this field."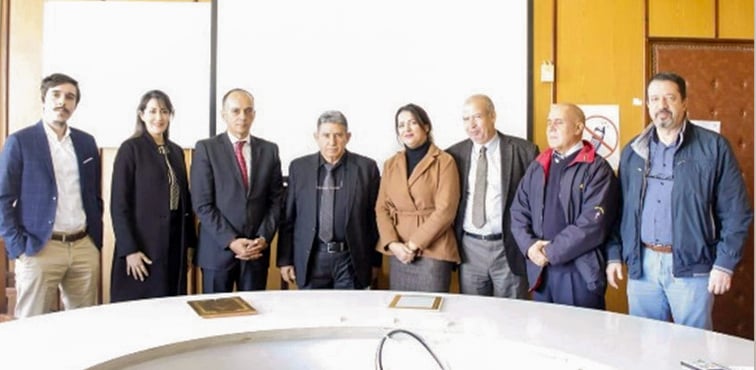 About GeoSoftware
GeoSoftware is a global trusted partner providing geoscience software and consulting services for enhanced subsurface knowledge. GeoSoftware reservoir characterization technology and services link geophysics, geology and petrophysics for optimum workflows that drive greater reservoir understanding. Global clients rely on the company's geoscience expertise to build the most accurate and detailed reservoir models and elevate subsurface knowledge. Headquartered in Houston, Texas, USA, GeoSoftware has over 160 employees located in 17 countries from which they serve over 450 clients across the globe.
Contact Information